Move forward with your infrastructures in complete security!
The fundamentals of infrastructure management have been turned upside down by the development of Agile and DevOps methodologies.
The digital transformation of companies is accelerating, driven by changes in working methods in particular. The cloud is now one of the catalysts of this digitalization.
However, IT's expenditures devoted to cloud infrastructures remains low (4% in 2020 according to Synergy Research Group).
The balance between using existing infrastructures and the search for scalability through the cloud is one of the biggest challenges faced by IT departments. Faced with these more open systems, the implementation of security policies is becoming more complex.
To respond to these issues, we transform and operate your infrastructures, we make your services evolve to facilitate this transformation which is essential to your competitiveness in tomorrow's world. Our expertise lies in managing and taking advantage of this complexity in complete security, and in helping your employees to understand their environment.
As a leader in the infrastructure services market, we assist IT departments in their transformation projects, in optimizing and operationalizing their services, and in implementing policies, particularly security policies.
Our teams and experts bring an intimate and operational knowledge of today's and tomorrow's infrastructures and systems. This is essential to smoothly adapt to ongoing evolutions in the market, such as hybridization.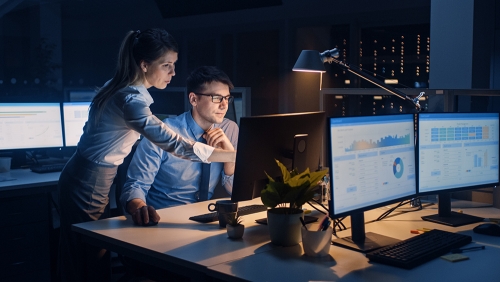 Openness and sharing of experience
The diversity of our clients and sectors of activity, enables both our clients and employees to benefit from opportunities for sharing, enrichment and development.
Our 30 years of experience in the field of infrastructure services, allow us to share our rich experience and to build, for each client, a tailor-made, efficient and operational response to the current challenges of flexibility, security and transformation.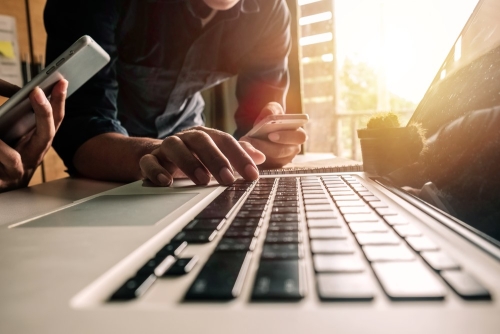 Industrialization & Customization
Our size is a real asset: our infrastructure activities allow us to give our operations the industrial dimension that is essential for mastering production quality. Our DNA and our size remain those of a start-up, enabling us to take an approach with our customers and solutions that is highly individualized and signed by our flexible and agile team dynamic.
Our 4 ISO certifications—9001 / 14001 / 20000-1 and 27001—bear witnesses to our strong commitment to provide each of our customers consistent quality and proven methodologies.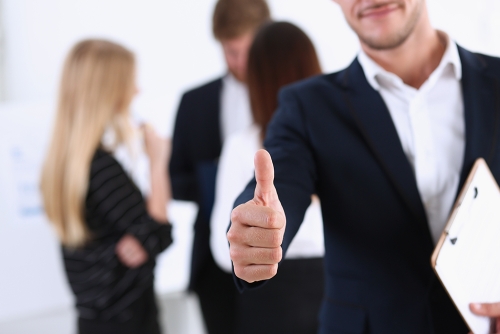 Career and evolution
Accompanying and developing each individual is one of the keys to our success, because the know-how of today and tomorrow is also nourished by the experiences of yesterday.
Our community of Consortis experts benefits, like all the group's communities, from a training environment that is the same for everyone:
– Online training / e-learning catalogue that is available 24/7
– Training campaign
– Lab available on technologies to be promoted
– ITIL/DevOps training centres
– Coaching and support from our experts.
ITIL® is a registered trademark of AXELOS Limited, used with the permission of AXELOS Limited.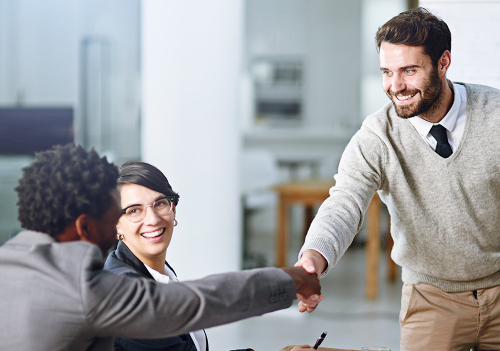 Geography and Proximity
We have chosen to establish our geographical presence as close as possible to our clients, to support their organizations and their development goals. Our agencies and offices allow us to be physically close to our customers, to get to understand their situation and the issues they're facing, and to be available to meet their needs as quickly as possible, regardless of their geographical structure. The dispersion of our national and international service centres also allows us to support each strategy, whether cost-based off-shore or proximity-based and right up the street.
Supporting our customers means investing in the men and women who make up our communities of experts to accompany  the technological and organizational disruptions they must face.
Jean-David ATTAL | Executive Vice President, Infrastructure activities- Consort Group
OPERATIONALIZE YOUR POLICIES
As a leader in infrastructure and user services, we operate all or part of our customers' services, in-line with their goals, placing system performance and agility, as well as the user experience, in our top priorities.
We integrate and share all the benefits of ambitious automation / robotization policies (costs, quality control, user empowerment…).
GUARANTEE YOUR SECURITY
At Consort Group, your security is the highest priority. Interconnected with your organizations via our service centres and secure sites, we are ISO 27001 certified to ensure the highest level of security. With a Cybervadis score of 955/1000, we fully prepared to take on your cybersecurity issues.
OPTIMIZE YOUR RECURRENT SERVICES
Our 30 years of outsourced managed service experience are at your disposal for your operations.
Our experts support your evolution projects to Increase, Industrialize, Outsource and Automate your recurring services. Committing your teams to services with higher added value is then possible. Available IT resources are placed to match your needs and reference standards, bringing more agility at a controlled cost…
AMPLIFY THE PERFORMANCE OF YOUR SERVICES
Bringing your services to the future is our driving force:
Unique experiences and phygital user paths, adapted to each work context: omnichannel, empowerment, servitization, disintermediation,
Users as actors in the performance of their working environments (augmented portal, automation support, etc.),
Augmented advisors and operators,
Modeling and data analysis.
SUPPORTING AND TRAINING
Supporting our teams is a priority. Initial training, from a technical and behavioural point of view, is essential. Ongoing monitoring, evaluation, support and training are all part of our continuous improvement and employability objectives.
Our ITIL® and DevOps training centres, our on-the-job support systems, and investments in training and e-learning are all tools in this regard.
Everyone is an ambassador. Find below the profile of some of your contacts, who are available to answer your questions, according to your needs.
RSSI & Practice Leader Security
Practice Leader DevOps, Virtualization & Cloud
Practice Leader Digital Workplace
RPA Infrastructure Services Manager | Project Manager
Infrastructure Manager Lille | Ambassador and trainer for DevOps Institute
IT Service Delivery Manager